Dear Breeders,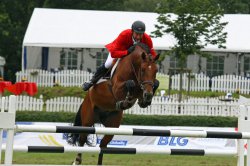 Ideally it is best to look for a sire that is successful in international sport. Those that achieve high sport results distinguish themselves from the sires that have only gone through the performance test and the Federal Championships before retiring to stud duties. The trend indicates that the most successful sports horses at this time are descended from successful sport stallions. Whilst the sire line is extremely important the dam line cannot be without strong consideration. From a strong damline you stand a good chance of producing a quality sport horse, however bred to the wrong stallion, the genetic mix can negate the quality of the offspring.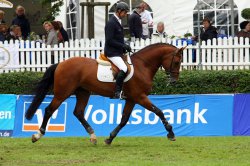 In a stallion you should look for the following attributes:
Character
Rideability with above average movement and the ability to use the back
Attitude, willingness to learn, the heart to win
Speed, ability, shape and technique over the fences
A high degree of caution, that is: Fast reflexes and concentration
Fitness and the ability to recoup
With the stallion South Wind's Con Tico we find these qualities in abundance. His training is already up to the higher echelons of international sport, aided by his valued genetics.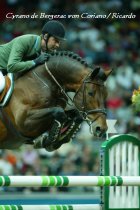 Con Tico's sire Cyrano de Bergerac was highly successful in international sport under former World and Olympic Champion Franke Sloothaak. Cyrano de Bergerac was sired by Coriano who in turn was sired by Corrado both highly regarded internationally successful sires. We also find in Con Tico's pedigree the Thoroughbred influence from Lord. We also find influence from Holstein from the Elite Stallion Ricardo and also Labrador. Labrador brings Ladykiller xx into the bloodline and is also the three-quarter brother of Landgraf I. We also find from Labrador the line of the great Hanoverian dam Ahnenflamme, which produced many licensed stallions and Bundeschampions. Con Tico's Mother Celina is an excellent type with good movement. Celina is sired by the highly refined stallion Centesimo I. Centesimo I sire is one of the most successful Holsteiner's of all time Dobel's Cento. To list all of Dobel's Cento's successes is unnecessary. The most important was the German team Gold Medal at the 2000 Olympics in Sydney, the World Cup in Leipzig 2002 and the magnificent victory in the Grand Prix of Aachen in 2000. Centesimo's mother – the Holsteiner mare, La Toya (stamm 318 d1) – brings the legendary Lord, giving Con Tico a double cross of Lord in his pedigree. We also find the Thoroughbred Marlon xx who is known for producing both jumping and dressage horses of the highest calibre. La Toya is also closely related to the licensed stallion Cumano by Cassini I v. Capitol (2006 world champion horse in Aachen under Jos Lansink).We find double crosses of many of the great sires in Con Tico's pedigree from the foundation sire Ladykiller xx . We also find the influence of Cottage Son xx via the stallions Lord, Dobel's Cento and Ramiro. The Stallions Lanacar (Westf) by the Holsteiner Landino from a Pilot mother, as well as the internationally successful Acord I under Jos Lansink. The fortified bloodlines of South Wind's Con Tico emphasise the quality of this sire.

Below you can see the amount of crosses in South Wind's Con Tico's pedigree:
7 x LADYKILLER XX, 7 x COTTAGE SON XX, 6 x RAMZES X, 3 x ANBLICK XX,  3 x COR DE LA BRYERE, 3 x HEILBUTT, 3 x RICARDA, 3 x LOGENSCHLIESSER, 3 x FANAL, 2 x LOCKVOGEL, 2 x GANEFF, 2 x DUELLANT, 2 x HEIDELBERG, 2 x CAPITOL I, 2 x ULTIMATE XX, 2 x LORD, 2 x FAVORIT, 2 x ALDATO, 2 x RAMIRO
Con Tico's achievements so far: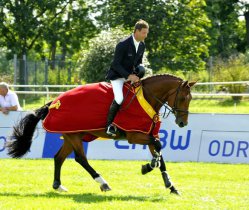 2008 licensed
2009 South German Champion
2009 qualified for the National Championships
2009 wins and placings in jumping competitions up to class M*
2010 qualified for the National Championships 2010 wins and placings up to class M **
2011 victorious up to class S*
Videos:
South Wind's Con Tico:
Born: 23.03.2004
Region: Baden Wuerttemberg
Breeder: Rutschek Olaf (Stuttgart)
Owner: Guido Schröter (Sylt) Rutschek & Olaf (Stuttgart)
Rider: Franke Sloothaak
You can find news about South Wind's Tico Con: H E R E
Stud fee: TG (Frozen Semen) 350,00 € per insemination dose (3 straws)
Stallion Station Jens Meyer, Dorum We are happy to answer any questions you may have.
Under CONTACTS you can contact us either by email or by telephone.
SUDWIND'S CON TICO
BaWu
Hengst 2004 braun
ggk: Bayern;BaWu;SAhn
Spr 1.40Süddeutscher Champion Springen 2009XX/OX percentage : 44.12%
CYRANO DE BERGERAC
BaWu 730553494/1156SWB
1994 bruin 1.69m
ggk: Old;SF;Hann;SBS;SWB;BaWu;CCDM;SI
Spr 1.60
CORIANO (CORIANO Z)
Holst 210145290
1990 bruin 1.69m
ggk: Holst;Z;BaWu;SI
Spr 1.50
CORRADO I
Holst 1985
Spr 1.60
COR DE LA BRYERE
SOLEIL
OPTION
Holst 1977
GOLDA
ROMANZE
BaWu 730089780
1980 bruin
RICARDO
Holst 1975
Spr 1,35
RONALD
Spr 1.50
RICARDA
LANZE
BaWu 1976
LABRADOR
TAENZERIN
CELINA
BaWu
2000 bruin
CENTESIMO I
BaWu 731120596
1996 bruin
ggk: Old;Rheinl.;BaWu
Spr 1.40
DOBEL'S CENTO
Holst 1989
Spr 1.60

CAPITOL I
VIOLA XI
LA TOYA
Holst 1987
MADEIRA
BARCAROLE
Bayern 811623395
1995 bruin
LANACAR
Westf. 1991
LANDINO
PIAZZA DI SIENA
BAL PARE
Bayern 1988
ACORD I, Spr 1.60
BALLERINA